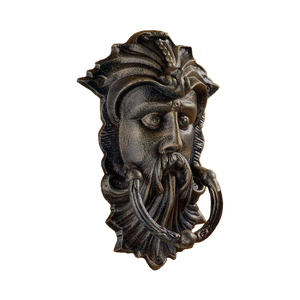 Celtic Green Man Door Knocker
Right this way, adventurer. I have a rather... striking... new door knocker to show you.
This Green Man door knocker is a reproduction of a 19th century British antique, cast in iron using the original molds. In this incarnation the nature guardian appears as a wise druid. He seems a peaceable fellow, despite our encroachment on his domain. But he is not to be trifled with---for when called upon he produces a thunderous knock, drawing on magics long lost to mankind.
Mounting hardware is not included. Please consult your local hardware store for the best hanging methods and materials for your door.
Attaches from the front with three screws.
7" W x 2" D x 10" H. 2 lbs. Available only in the continental US. Hardware not included.
---
More from this collection