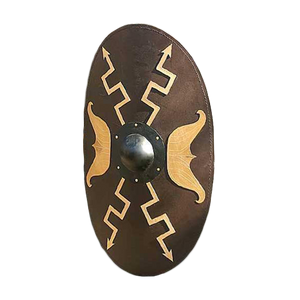 Wooden Oval Roman Shield
Backordered! Reserve now and allow a few months.
This style wooden oval shield was used widely by the Roman cavalry. Our version has a leather covered front and painted canvas back. It has a black steel boss with gold leather wings and lightning on the curved face and on the arm straps on the back. Great to complete your Roman outfit!
Key Measurements:
23" wide x 39" high x 5/16" thick
Wt: 7 lbs/4 oz
---
More from this collection