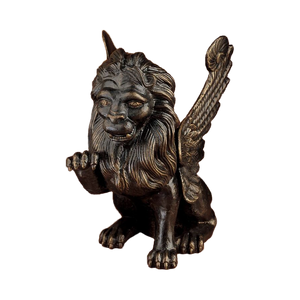 Victorian Chimera Doorstop
Backordered! Reserve now and allow a few months.
Behold, adventurer: 25 pounds of glorious foundry cast iron. This terrible fire-breathing monster is a chimera, a fearsome creature conceived in antiquity. Similar hybrid creatures were later envisioned by the medievals in a Satanic light. One such example is Geryon, the Monster of Fraud in Dante's Inferno.
This handsome, heavy iron beast is cast from a Victorian antique and finished in replica bronze. Place it at the flank of your hearth, beside your doorway, or on a high perch where it may watch over you.
7½" W x 11" D x 12" H. Available only in the continental US.
---
More from this collection