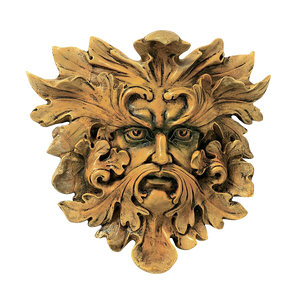 Oak King Wall Sculpture
Herald the coming of the new year with the Oak King wall sculpture, said to be the bringer of light and warmth. According to Celtic lore, the Oak King triumphs in battle over the Holly King at Yule, and reigns in glory until Midsummer. Then the Holly King wins the day and brings darkness and coldness until Yule. My foot-wide lord of light was imaginatively hand-sculpted, then cast in museum quality resin and made ready to hang on your wall.
12" W x 4" D x 11" H. 2 lbs. Only available in the continental US.
---
More from this collection