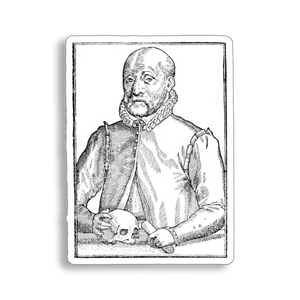 Ioannes Wierus a.k.a. Johann Weyer 16th century demonologist sticker
Ioannes Wierus was a 16th century occultist, demonologist, and author of the anti-witch-hunting book De Praestigiis Daemonum (On the Tricks of Demons). His more famous Pseudomonarchia Daemonum (False Monarchy of Demons) was an appendix to that book. In this fascinating text, Wierus lists the most powerful demons of hell, explains their powers, and tells how to summon them. Wierus' grimoire is thought to have been the source for much of the Ars Goetia in the Lesser Key of Solomon.
The sticker is derived from an engraving of Wierus at age 60 from A Book on Witches Together with a Treatise on False Fasting.
Stickers are made to order, and will ship out in about 3 days.
---
More from this collection