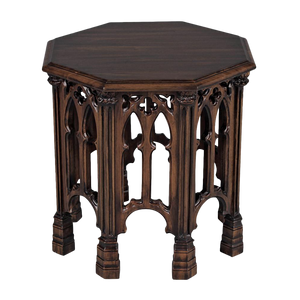 Gothic Revival Octagonal Side Table
Regular price
$569
Sale price
$1,199
Hand-carved solid hardwood antique replica
The octagonal table is a treasured style found in the rarest antiques, and this functional side table is a passionate salute to those 500-year-old Gothic treasures. With eight hand-carved cloverleaf tracery arches to support the kiln-dried hardwood top, this antique replica is as sturdy as it is handsome.
20" W × 20" D × 21" H. 25 lbs.
Available only in the continental US.
---
More from this collection