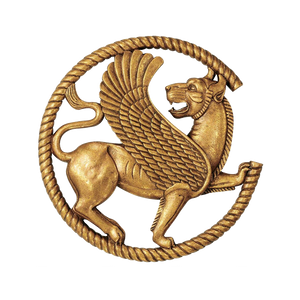 Achaemenid Gryphon Wall Sculpture
Over here, adventurer. Have a look at this superb roundel containing the Achaemenid gryphon, an ancient guardian against evil, witchcraft, and slander. Feast your eyes on its muscular haunches and broad, feathered wings. This was the very icon worn by King Xerxes as he stormed the shores of Greece nearly 2,500 years ago. Rest assured, this wall sculpture will make a bold statement in your castle gallery. It's cast in nothing less than museum quality resin.
12½" W x 1" D x 12½" H. 2 lbs. Available only in the continental US.
---
More from this collection